Podcast Booking status: OPEN!
Requirements:
As a business owner or leader, you should be experiencing some very good momentum professionally AND be grossing 6 figures, working towards 7 figures wanting to go to the next level. We'll be talking about how you have grown and scaled your business in such a short time.
Guests should be between the ages of 25-40 who own a business that is less than 5 years old.
Consider yourself as having 'purpose;' and thoughtful in your mission.
Please NO coaches, we are looking for business leaders i.e. business owners, Executives, Entrepreneurs, VPs, or C-Suite, etc.
Assuming you qualify above, we can't wait to promote you multiple times through our super loyal fan base!
Interested in becoming a more effective podcast guest? Once you schedule, I'll share 5 videos to watch before your interview: (No catch here! Your success is our success.)
Video 1. Who our audience is – and how to tailor your message for maximum impact.
Video 2. How to look and sound amazing!
Video 3. How to sell effectively to our audience. (Yes, you read that right.)
Video 4. What Peak Performance Greatness means.
Video 5. How to double your impact + What questions I'll ask you.
Learn more about the creator of The Peak Performance Greatness Show, Christopher Dedeyan.
Your Next Steps
1. Schedule the podcast below.
2. Enjoy the interview via Zoom video.
3. We send you all the assets, social media posts, and even video clips to promote.
4. We promote you to our hard core loyal fans (who love sharing great content!)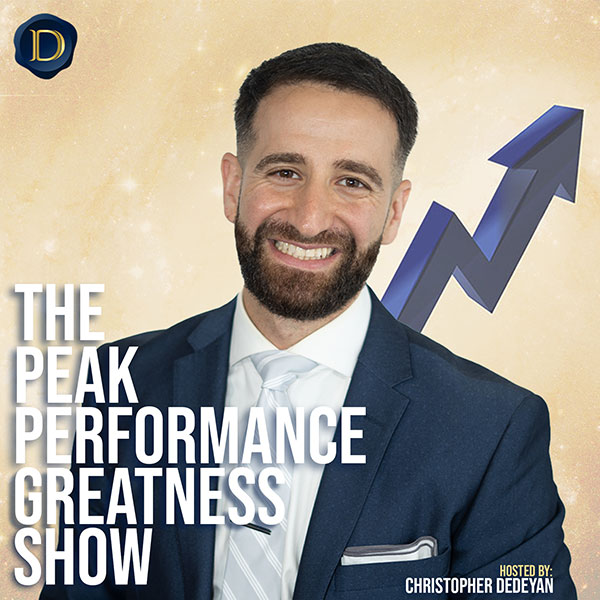 With your Host,
Christopher Dedeyan